Foreword
Welcome to the consultation page for the Llwynhendy Hub and Gwili Fields proposals.  I have been working hard with colleagues in both Llanelli Rural and Carmarthenshire County Councils to provide a community facility that will be both valued, and well used by Llwynhendy residents.  There are a lack of community services and available spaces in the area.  I know this through years of dialogue with residents in my work as County Councillor and in my role along with Cllr Jason Hart at Llwynhendy & Pemberton Forum, as well as various community consultations.
After obtaining funds through the Our Llwynhendy Invest Local programme, funded by the Lottery's Community Fund, Llanelli Rural Council commissioned a feasibility study to look at the green fields at Heol Gwili and its library building. What follows is a summary of that process.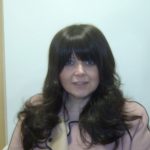 Cllr Sharen L Davies  
Chairman
Llanelli Rural Council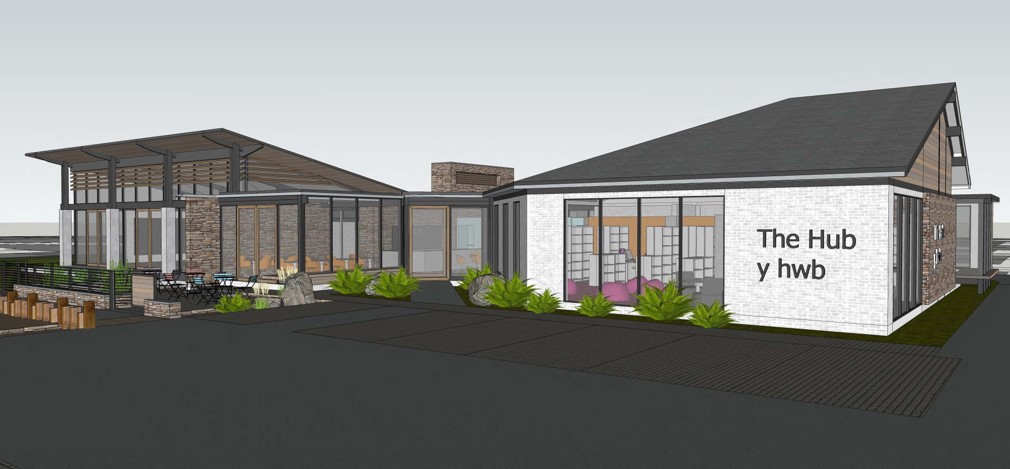 Background
In January 2020 Llanelli Rural Council, in partnership with Our Llwynhendy (funded by The National Lottery's Community Fund) commenced a feasibility study for Heol Gwili Fields. This has looked at the green space and a potential community hub that will work with the existing library, whilst building extra space to host various activities and services.  This will help improve local well-being for all age groups.
This summary is the result of a 6 month process that has provided a number of opportunities for the local community and stakeholders to participate in shaping the final proposals. From best practice trips to Ammanford to Brynamman, a local stakeholder workshop through to a number of community consultations, the process has been accessible and inclusive.  Even with the arrival of the coronavirus pandemic in March 2020, the study process has adapted and reached out to as many people as possible through traditional and online methods.
The Hub
The community need for a place that brings together community life, a place to meet friends, learn and enhance life skills as well as celebrate occasions has been a key priority for many years, with the Field seen as a place for events, informal get together and for young children to play.
The study has responded in building on the legacy of the existing library building that is not wasteful but valuing its presence and impact to local residents and building on this with a refreshed and extended footprint.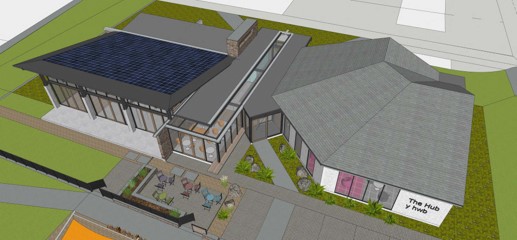 It is intended that the existing building be clad over giving it a fresh and contemporary feel. The existing boarded up windows will be refurbished, and additional glazing added giving the building a welcoming and active outlook with a refreshed library space and meeting rooms.
To the north of the existing building will be the extended accommodation. The extension will provide flexible spaces which will complement the existing building.  These spaces will be large multiuse rooms.
Sitting between the existing building and the proposed extension is a new inviting inclusive access. It will provide a new 'welcome mat' to the facility linking both the old and new together with a community café at its heart.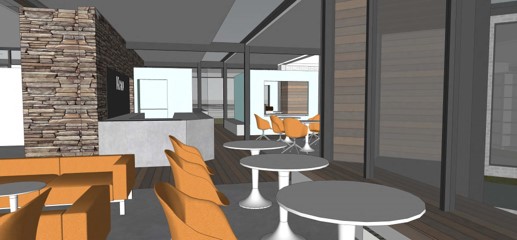 The Field
The proposals for the Field look to create a facility which helps to support the leisure needs of the community through mixed age facilities and uses. The design suggests that a restful wetland garden could be created north of the hub extension. Also for consideration is an organic and natural children's play area near the existing Multi Use Games Area. In order to address the boggy nature of the field, further tree planting is being proposed. In and amongst this more wooded area at the north corner of the existing field, it is suggested a picnic and barbeque area be created, which will encourage social activities and gatherings.
In addition to the above places which are based on relatively defined spaces and activities, there is a need to provide a more flexible outdoor space. This could be used for kickabouts, parties and outdoor events such as fetes and carnivals. This is being considered to the south west corner of the existing field.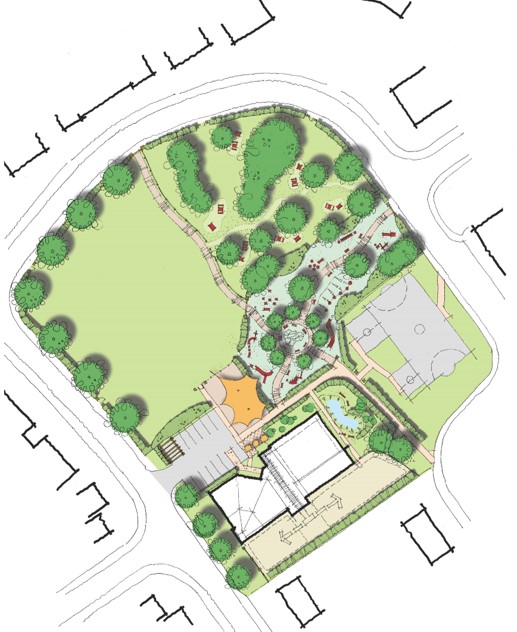 Next Steps
In taking this project forward, the management and governance of the Hub and Field is a critical success factor for the development, delivery, and future running of this community asset.  Partners need to oversee the further design development, implementation and day to day running of the building and fields.  There is also a need to seek out funding which needs to be seized as this document is fresh and represents the views of Llwynhendy at this moment in time.  Further physical site surveys, detailed design development and securing consents for future works is also needed to demonstrate to funders that the vision and plans for Gwili Fields are robust.
Coronavirus has also shown to us the goodness and spirit of people, with them being neighbourly, helping out and looking out for each other.  This is at the heart of Llwynhendy with a new community hub and improved field area supporting the future sense of belonging and the wider well-being of its residents.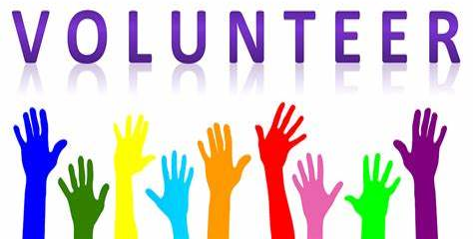 In maintaining the pace to the future development and delivery of these proposals, the Rural Council and Our Llwynhendy need support and help from local residents and groups.  Some of you have offered to help with fundraising, volunteering on the Field projects as we well as offering your time in the future community hub building.
June 2021 update…
Short video clip of where we are with the project and what is next https://clipchamp.com/watch/4ZkBKbzcKxN
Follow us on Social Media:
We have a new Facebook page https://www.facebook.com/Llwynhendy-Community-Hub-Project
We are also on Instagram https://www.instagram.com/llwynhendyhub/
If you want to find out more please get in touch with Darren Rees at Llanelli Rural Council on 01554774103 or email on [email protected] .