Who are Street Buddies?
We are a group of community members committed to making positive changes in our local community, join us and make a difference!
Why do we need Street Buddies?
You may or may not know it but there are many things going on in your community, such as events, clubs, coffee mornings, hobby groups, walks, talks, trips and sport clubs. These take place in various venues such as sheltered accommodation, cafes, industrial units, community halls, church halls are just some examples. There are services out there that you, a family member or friend can benefit from that you don't even know about. This is where a street buddy can help. By becoming a street buddy you can help:-
people in their community
increase awareness and use of local services
increase confidence in residents finding solutions to their needs
reduce isolation and increase well-being amongst individuals
promote a joined up approach between service providers
provide a more equal and resilient community for residents
Interested in becoming a Street Buddy, but what is in it for you?
A street buddy role can fit around your own schedule and interests. For example if you are passionate about the environment, you could focus the role around that. Or you may want to put on an event in your area – the street buddy role and network can help you with that. Whatever your interest is, there is an opportunity to tailor your role around that. By joining you can
Learn new skills
Make new friends
Earn Time Credits
Join a group
Induction and ongoing training
Help to make a difference
Increase you confidence
Enjoy a better quality of life
For a broader understanding, click here to view the Street Buddies Volunteer Agreement and/or contact Darren Rees on 01554 774103 or [email protected] To register your interest complete the form online here.
When and where do we meet?
The Street Buddies Network meet once a month on the second Wednesday of the month at 10am at Felinfoel Community Resource Centre. These meetings are open to all and are an excellent opportunity to learn about what is on offer from various services in your community. If you would like to promote your own organisation, please get in touch (details above). Turn Up. Take Part. Join the Network. Time Credits are offered to all volunteers that attend the Network meetings.
 
Next meeting…
The next Street Buddy Network meeting takes place on Wednesday 11th September at 10am. 
Venue: Felinfoel Community Resource Centre, Felinfoel Recreation Ground, off Ynyswen Road, Felinfoel, Llanelli, SA14 8BE.
Previously…
We had People Speak Up with us for the July meeting. People Speak Up, based at Ffwrness Fach at Ffwrness Theatre are a social arts and well-being enterprise who connect communities through storytelling, spoken word, creative writing and participatory arts. They run a number of fantastic projects in the community and will be explaining more on what they can offer, such as workshops, training, events, volunteering and conversations.  You can view a short video that focuses on one of their projects, that tackles loneliness and isolation through storytelling, by clicking here.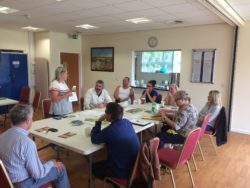 Thank you to Brian Mogford from Pride in Your Patch for attending and giving an overview of the project at the June meeting. Brian discussed the work the project has achieved in local communities across Carmarthenshire in regards to keeping it clean. Future plans will look to create litter pick 'hubs' in different areas. A Street Buddies litter picking group will be on the agenda for sure.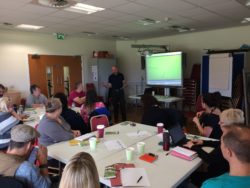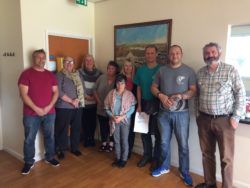 At the May meeting, Marc Davies discussed the volunteering options with Digital Communities Wales. He informed the Street Buddies of how they are going about getting more people online and the tools available for volunteers to help others. Digital Communities Wales works nationwide and they have trained over 3,000 volunteers in Wales to date. To find out more click here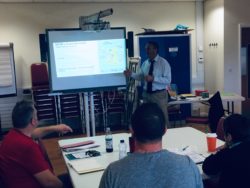 At the April meeting, Sue Smith gave a talk on Carmarthenshire Is Kind and Dewis Cymru. Carmarthenshire is Kind is aiming to promote kindness within local communities in Carmarthenshire. In particular it aims to help support and intervene with those individuals who are lonely and socially isolated. It also aims to create more local community provision based on the needs of the community. Dewis Cymru is a website that aims to help people with their well-being. It's the place to go for people who want information or advice about well-being – whether that's their own well-being or the well-being of a family member or friend. View their leaflet here