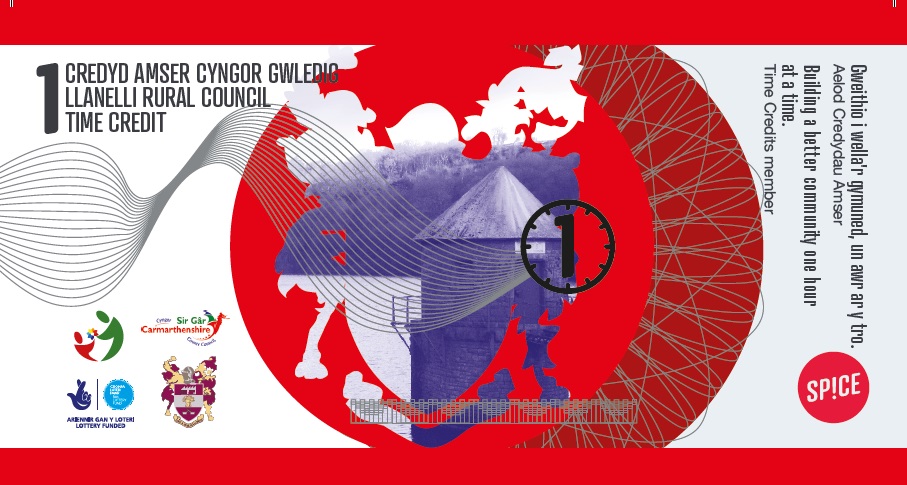 What are Time Credits?
They are coordinated by a charity called Spice Time Credits. Already active in Carmarthenshire via Communities First and Housing, 800 people have earned time credits in this time.
You give one hour to help your community and get one time credit (worth one hour) in return.
They are designed to create a more vibrant community where groups design earn and spend opportunities within the community.
Time Credits are accepted at various locations locally and nationwide. Example of spend:
• Ramps Skate Park
• Ten pin bowling in Carmarthen or Swansea
• Go to the theatre
• Antioch over 50's lunch club
• CCC Leisure Centre and Robert Davies Gym
• Camping at Kiln Park
• Botanical Gardens for Wales
• Watch the Scarlets
• Tower of London
• Blackpool Tower
• Spice coordinated events. Recent examples: Folly Farm
trip, Annie musical in Cardiff,
• LRC Training (see below)
Why through Llanelli Rural Council ?
The Time Credits programme was highlighted during our Whole Place Plan (community) consultations during the Spring of 2015 where we held nine community workshops across the Llanelli Rural wards. A number of suggestions from these conversations can be linked towards time credit earn and spend activity…
• Community Flood Wardens
• Caring Community local area coordination
• Street or Village buddies
• Keep Llanelli Tidy
• Bus timetable coordination
• Time Credit ambassadors in each ward
The project is funded by Llanelli Rural Council, Big Lottery and Carmarthenshire County Council.
Llanelli Rural Council can offer spend opportunities via their training department – LRC Training for courses such as first aid, manual handling and forklift license. The Time Credits programme hopes to generate more activity and spend opportunities at each of our nine community halls.
Cllr. Carol Rees, Leader of the Rural Council said "Time Credits came up numerous times as a good idea during our consultations with the community so we are delighted to be able to coordinate this for their benefit."
Upcoming events
At each of the following events a time credit will be offered for each hour that you take part.
Thursday 7th April 11am-2pm *Co design with community at Felinfoel Community Resource Centre
Thursday 14th April 10am-3pm Litter pick around Swiss Valley Reservoir
Saturday 16th April 10am-12pm Community clean up around the Trallwm area. Meet at Trallwm Hall at 10am
* Co design events are when we will seek the views of the community and work with them to design some potential earn and spend opportunities
MORE EVENTS TO FOLLOW
This project is restricted to the ward boundaries and villages covered by Llanelli Rural Council which are: Bynea, Cwmbach, Cynheidre, Dafen, Felinfoel, Five Roads, Furnace, Llwynhendy, Ponthenri, Pontyates (part only), Pwll, Sandy and Swiss Valley.
For further information, please contact:
Llanelli Rural Council Community Development Officer, Mr Darren Rees on 01554 774103