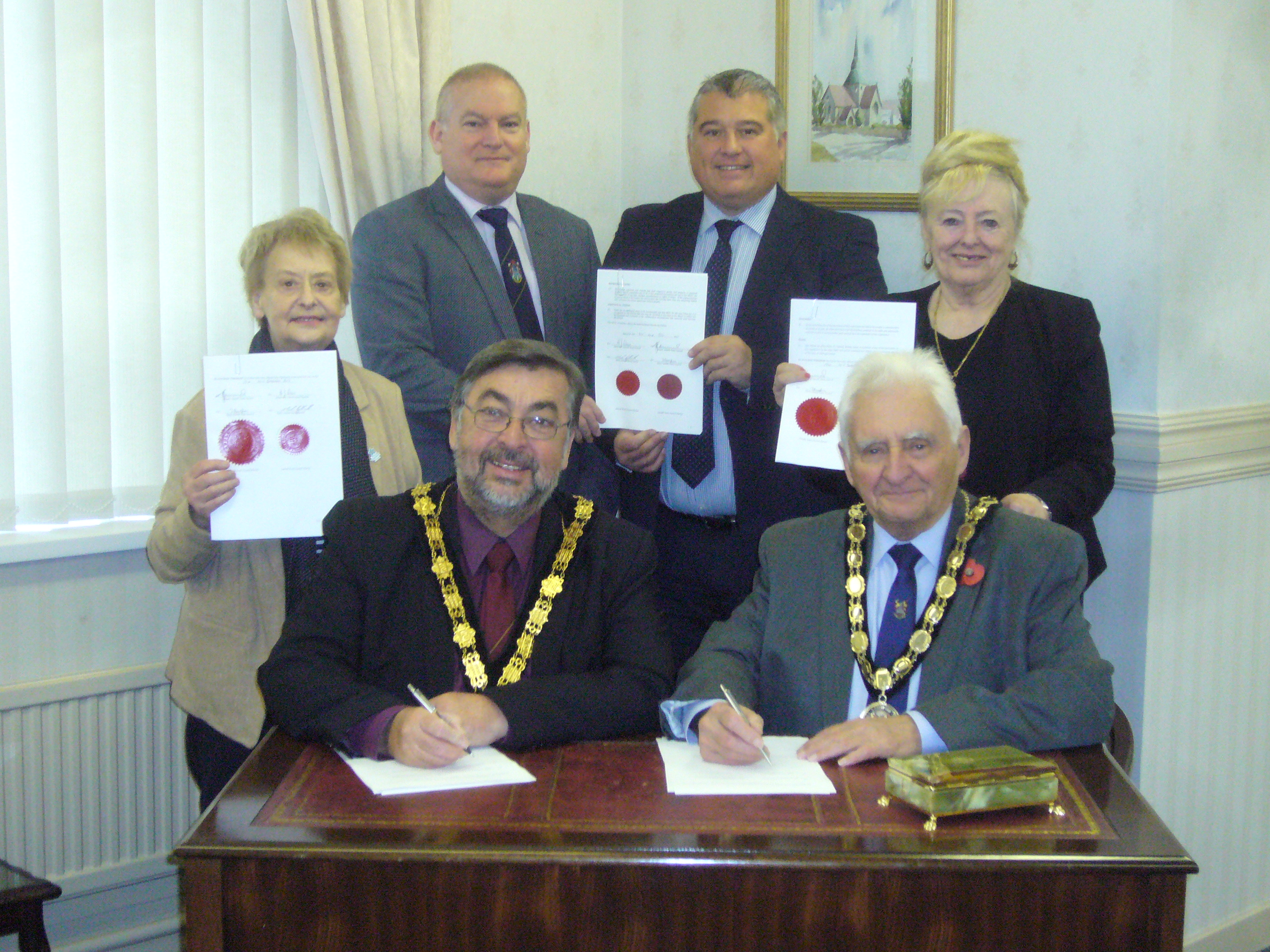 LLANELLI PARKS KEPT SAFE FROM CLOSURE
A number of Llanelli parks and playing fields have been saved from the threat of closure following a decision taken by Llanelli Rural Council and Llanelli Town Council to work together to maintain them. The two councils subsequently asset transferred a number of parks and play areas from Carmarthenshire County Council as part of its asset transfer programme. The councils already have an excellent track record of working together having first started working in partnership in 1975 when they formed a joint committee to oversee the acquisition and management of Llanelli District Cemetery.
The two councils recently signed a memorandum of understanding in recognition of this long-standing arrangement so as to better regulate the activities of the joint committee and to enable them to enter into a new collaboration agreement to manage and maintain parks and playing fields which have been transferred to both councils from the County Council.
Collaboration in the public sector is very much the order of the day in Wales and is encouraged by Welsh Government in support of its public services reform agenda. Working together for the common good also promotes sustainable development.
Under the new partnership arrangements, Llanelli Rural Council now provides professional advice and support to Llanelli Town Council on all grounds maintenance related matters as well as providing the town council with a bespoke grounds maintenance service.
Cllr Jan Williams, Leader, Llanelli Town Council remarking on the aims and benefits of the partnership stated "a primary goal of the partnership is to make efficient and effective use of resources. Not only has this arrangement with the Rural Council saved a lot of money through sharing resources it has also helped to sustain and safeguard jobs but more importantly, however, the partnership has secured the future of our parks and playing fields in the town".
The willingness to work together has produced budget savings for both councils through sharing service costs. The Rural Council has generated an income stream from the Town Council to help offset its costs in maintaining parks and play areas that it has transferred from the County Council; whereas the Town Council has saved time and money in not having to duplicate services already provided by the Rural Council.
Cllr Tegwen Devichand, Leader, Llanelli Rural Council commented "By agreeing to work together the two councils have saved a number of parks and recreational facilities from the threat of closure. Pleasingly, the partnership is making a noticeable difference to the local community with recreational facilities being maintained to a very high standard in the town and rural areas. We believe service delivery has improved through the partnership and the arrangement is providing much better value for money to the public and this is what partnership working is all about".
(ENDS)
For further information, please contact Council Clerk, Mark Galbraith on 01554 774103; email: [email protected]
or Gary Jones, Town Clerk on 01554 774352; email: [email protected]
21 November, 2017
NOTES TO EDITOR
1. This media release has an accompanying photograph and features officials from Llanelli Rural Council and Llanelli Town Council signing the memorandum of understanding. Persons pictured are:
Mr D. Gary Jones, Town Clerk (left rear);
Mr Mark Galbraith, Rural Council Clerk (right rear);
Cllr Jan Williams, Leader, Town Council (middle left);
Cllr Tegwen Devichand, Leader Rural Council (middle right);
Cllr Jeff Edmunds, Town Mayor (seated left); and
Cllr H. John Evans, Rural Chairman (seated right).
2. The two councils have asset transferred the following parks and playing fields from Carmarthenshire County Council:
Rural area transfers:
Bryngolau play area, Dafen; MUGA play area Heol Gwili, Llwynhendy; Heol Nant play area, Swiss Valley; Dafen Park; Pontiets Park; Pwll Recreation Ground and Trallwm Playing Fields.
Town area transfers:
Crown Park, Seaside; Havelock Park, Morfa; Penyfan Playing Fields; Penygaer Playing Fields and Peoples Park, Llanelli.
3. The assets have been transferred under long term lease arrangements but Carmarthenshire County Council has issued licences for many of the recreational facilities as a temporary holding measure to enact the transfers while it deals with title registration issues with the HM Land Registry. The lease period for each and every facility is 99 years at a peppercorn rent.
4. To offset the cost burden of the asset transfers, Carmarthenshire County Council has made available grants to the two councils. The grants equate to two years' worth of annual maintenance cost per asset and a one off improvement grant to cover one or all assets transferred. The monetary value of the grants available to the Rural Council is in the region of £83,000 and the value to the Town Council is in the region of £294,000.