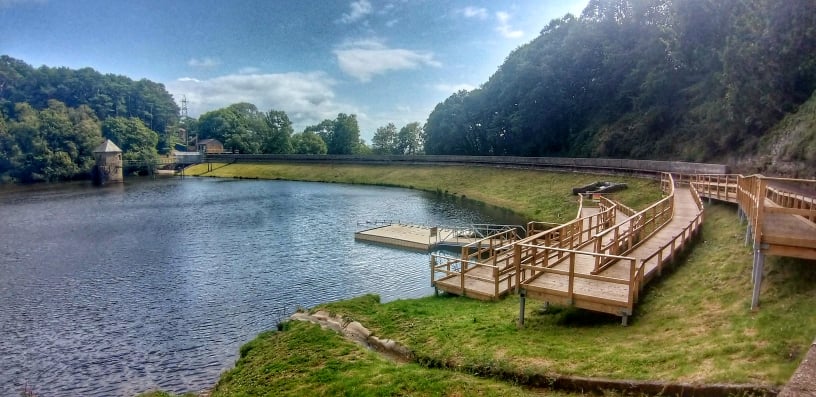 Photo by Andrew Thomas
MEDIA RELEASE
Visitors and outward bound activity enthusiasts will soon be able to benefit from an award winning outdoor activities provision at the Lower Lliedi Reservoir Swiss Valley, Llanelli. LiveFree Adventures Ltd. was successful with its tender to Llanelli Rural Council for an operator licence to provide water sports and outward bound activities at the Lower Lliedi Reservoir, Swiss Valley.  Established in 2017, the company demonstrated a proven track record and commitment to local community engagement.
This appointment represents another milestone in the successful community adoption model that was implemented in November 2020 by Welsh Water and Llanelli Rural Council. The agreement has enabled the Council to provide local ownership which has resulted in a number of improvements at the reservoir for visitors to the reservoir to enjoy.
As the newly appointed operator, LiveFree Adventures will be offering an array of exciting water-based activities throughout the summer of 2023. Visitors to the reservoir can look forward to engaging in thrilling kayaking, paddleboarding and canoeing adventures against the breath-taking backdrop of the woodland valley.
"We are absolutely delighted to have been awarded the operator appointment for the Lower Lliedi Reservoir," said Ben Hughes, founder and Director of LiveFree Adventures. "This presents a wonderful opportunity for us to showcase our passion for outdoor adventure and share it with the local community and visitors alike. We are committed to providing exceptional experiences that combine the thrill of our activities with a deep respect for the environment. We would like to express our sincere gratitude to the council and all involved in the selection process for recognising our vision and granting us the opportunity to operate at the Lower Lliedi Reservoir. We are confident that LiveFree Adventures, in collaboration with the local community, will help make this location a vibrant hub for outdoor recreation, attracting adventure enthusiasts from near and far."
Chairman of Llanelli Rural Council, Cllr Sue Phillips said "The proposal put forward by LiveFree Adventures was excellent and I cannot wait for them to start! Their plans for additional land based activities such as orienteering, archery and forest schooling at the reservoir are exciting and their experience gives us confidence that this is going to be another success for the reservoir at Swiss Valley. As a community council, we are very proud to be able to provide the community with a variety of activities including angling, kayaking and paddleboarding, which are increasing year by year in popularity, at such a beautiful venue."
(ENDS)
For further information, please contact Community Development Officer, Darren Rees on 01554 774103; email: [email protected]