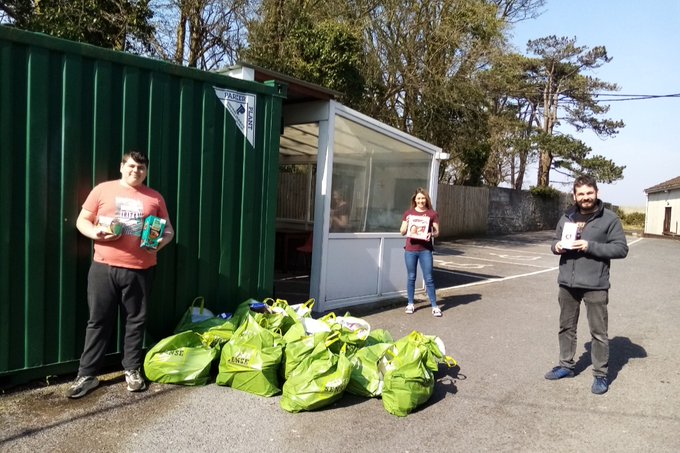 The Llwynhendy/Pemberton Foodbank has risen to the challenge of coronavirus and is responding to increased demand in the area.
Since the start of lockdown, the foodbank has helped many hundreds of people in the area.
The foodbank continues to support the local community by getting well-needed food parcels out to those in need.
Llanelli Rural councillor Jason Hart has been supported by a number of volunteers and they have been tireless in their efforts to collect and deliver food throughout the Llanelli area.
The foodbank was officially opened by the Chairman of Llanelli Rural Council Cllr. Sharen L Davies in July 2019.
The constituency area includes a large proportion of people whose working circumstances have changed overnight and are living from day to day to cover basic food needs.
Chairman Cllr Sharen Davies said she would like to thank the many volunteers and the following organisations and individuals for their support (not all are listed as some wanted to remain anonymous) –
Carmarthenshire County Council, Llanelli Rural Council, Castell Howell, Our Llwynhendy, Morrisons, McDonalds, Costa, Jenkins Bakery, CETMA, Incredible Edibles, Hilltop, Joiners, Burns, Co-op, Cambrian Pet Food, Dafen Cricket, Llanelli Airport Flyers, Cllr Andrew Rogers, Cllr Sue Lewis, Cllr Louvaine Roberts, Sandra Cooke and Catrin Morris Besley, Nicky Walters, Tanya Kennedy – and many more who have given financial and food donations.
Cllr Davies said: 'We are truly thankful and so, so grateful to these organisations and our volunteers – they are incredible.
"As I've had to self-isolate due to health conditions, I've been applying for grants, securing funding from a number of organisations, who have all been fantastic and without whom we could not have helped our communities to the extent we have.
"I would also like to thank Llwynhendy Crafty Seniors and my mother-in-law, who have been busy sewing and knitting for the NHS."
(ENDS)
Picture attached:
From left to right Tom Jones who is on a youth training programme with LRC Training, Lynne Lowe and Cllr Jason Hart.
For further information, please contact Cllr Sharen L. Davies on 07856747856
Date: 1 May, 2020