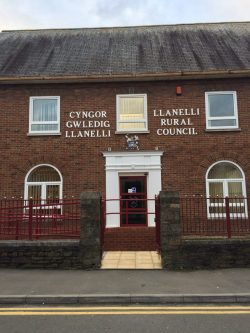 MEDIA RELEASE
Further to the announcement made by Welsh Government that Llanelli area is being put under new local restrictions from 6pm on Saturday 26 September, 2020 the Council can confirm the following in terms of its business activity as we enter the local lockdown.
The reception office at Vauxhall Buildings will remain open to members of the public but we do encourage people to contact us by phone or email to minimise contact.  LRC Training will continue to provide face to face sessions with its learners who will continue to travel into its training centres.
Some community facilities are affected.  Council run parks and play areas will remain open but the opening of community halls is suspended until the local movement restrictions are lifted.  The Council's ground maintenance duties will carry on with its staff adhering to the control measures that they already have in place.  The office at Llanelli District Cemetery will be closed to the public but they can still be contacted by phone or email.
The Council will update its website to any relevant changes throughout this period of restricted movement for Llanelli residents.  It will continue to convey the messages set by Carmarthenshire County Council who are informed by Welsh Government, Public Health Wales and Hywel Dda University Health Board.
Leader to Llanelli Rural Council, Cllr Tegwen Devichand said "We fully support the decision taken by Welsh Government and local health authorities in its measures to introduce restricted movement of Llanelli area residents.  The evidence in other areas like Caerphilly and Rhondda Cynon Taf prove that these measures are effective in tackling the spread of this dreadful virus".
Chairman to Llanelli Rural Council, Cllr Sharen Davies added "These are strange and worrying times that we live in but these new measures are necessary to protect our friends and family.  The Welsh Governments website has 'frequently asked questions' that will address the most common concerns us residents have. We will continue to update the Llanelli Rural Council website and social media channels and the office is contactable should you have any concerns."
(ENDS)
For further information, please contact Community Development Officer Darren Rees on 01554 774103; email: [email protected]