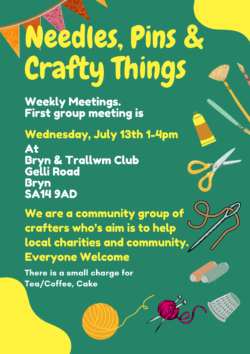 Needles, Pins & Crafty Things – weekly meetings
First group meeting is Wednesday, 13 July, 2022 from 1-4pm at Bryn Y Trallwm Club, Gelli Road, Bryn, Llanelli.  SA14 9AD.
It is a community group of crafters whose aim is to help local charities and community. Everyone Welcome.
There is a small charge for tea/coffee, cake.