Community's bid for control of Pwll Education Centre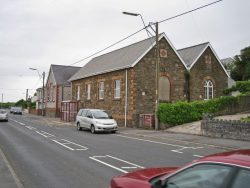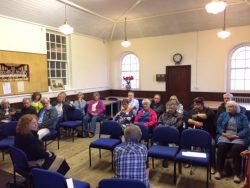 The Pwll Education Centre on Pwll Road has been used as a school for excluded Children for some years. It has now been declared surplus to requirements by Carmarthenshire County Council and the Pwll community are keen to retain the building as a Community Centre once more.  To date, two well attended public meetings have been held, the first was held on 30 November, 2016 at the Education Centre and the second meeting on 30 May, 2017, at Bethlehem Chapel in Pwll.
To date the views of attendees with regards to what they would like to see at a 'Pwll Community Centre'  has been recorded by completing questionnaires.
At the meeting on 30 May (see picture above), community members volunteered to assist to form a committee that would run the hall on a day to day basis. For the time being however, they now need to demonstrate that there is enough evidence of need within the village. They will be working on this by collecting Pwll residents signatures and views as to what they would like to have at he hall, that would see them becoming regular users there. They are also keen to hear from potential regular hall hirers as they scope the local demand .
The next meeting is scheduled for 7.30pm, Tuesday 4 July at Bethlehem Chapel in Pwll.
To complete the online petition, please click on the following link: https://www.ipetitions.com/petition/community-bid4-pwll-education-centre
Archives
Facebook post dated 1 December, 2016 via https://www.facebook.com/LrcCommunity/
There was an encouraging turnout from the local community at last night's (30th November) Public Meeting regarding the future of the old Pwll Community Centre.
Hengoed ward councillors of Carmarthenshire County Council and Llanelli Rural Council provided the public with an update on imminent changes to the tenancy of the old Pwll Community Centre. The centre, which is currently used by Carmarthenshire County Council Education department, will soon be vacant as they look to relocate the current provision at Pwll to Burry Port.
County Councillor for Hengoed, Penny Edwards called for the meeting, with the help of Pwll Action Committee, in order to see if there was appetite within the Pwll community to retain the building for community use. This was confirmed by those in attendance at the public meeting who moved that a declaration of interest be lodged with the land owner, Carmarthenshire County Council.
Llanelli Rural Council members confirmed that they would consider the transfer of the building over in to their responsibility from Carmarthenshire County Council on the basis that the centre was to be used for community purposes. However they reminded the public that Carmarthenshire County Council have yet to confirm whether it is available under their Community Asset Transfer programme and the next step is to find out its availability.